I knew I would never master the clicks, never fully understand the grammar no matter how hard I tried, and outside South Africa, when and where would I need to use Xhosa? And so it is that on a sunny February morning back in 2009 I found myself sat in a room with a bunch of other students listening to the sweetest Chinese man promoting a new Chinese course that the university was about to offer. Decked out in white running shoes, navy slacks and a white button-up shirt, I was sold. He was so enthusiastic and his combination of excitement, innocence and nerves led to me immediately signing up for the course with absolutely no idea of what to expect, or whether or not I'd actually enjoy it.
Well, um…here we are. Six and a half years later and I am STILL in China, so clearly Ma Laoshi did something right. When I think of it like that, my Chinese should be a lot better than it is. Basically I have spent more than a quarter of my life immersed in the Chinese language and culture. What?! I remember when we had only been studying for a couple of weeks, Ma Laoshi came up with this crazy idea that we should participate in Chinese Bridge. I could barely pronounciate 'ni hao' nevermind actually speak and compete in Chinese. And yet, after only three months of studying the language, four of us Chinese students found ourselves flying to Cape Town to compete with people who had been studying for years. Hilarious idea? Yup. But due to our refreshing enthusiasm and promising talent (for beginners), we were all awarded scholarships to study a semester abroad in China. Oh yeah and one of the four of us actually won the whole competition! Gisela Zipp, I'm looking at you. So yeah, clearly Ma Laoshi rocks! As we nibbled on noodles and attempted to master chopsticks, we just sat, flabbergasted at the idea that we would be going to China that year. I mean, I don't think I even knew how to say 'China' in Chinese, and yet I was over the moon at having this chance.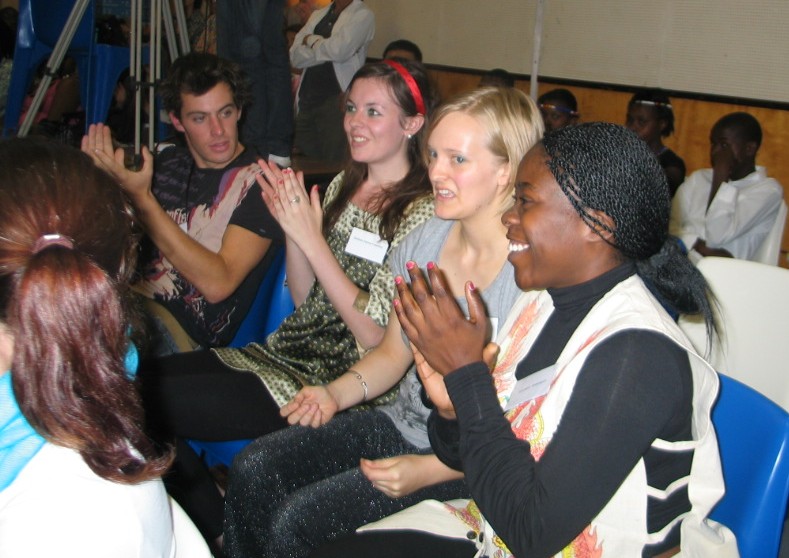 The moment where we found out Gisela had won. Haha. Classic.
In case you hadn't guessed, I went to China and I've been stuck here ever since (well, with a break in Taiwan and Hong Kong for a year and a half too). Nothing could have prepared me for the adventures the past six years have brought me, and it was only this past weekend when I met up with Gisela (one of the girls I studied Chinese with in South Africa) that I really started thinking about it all. How one tiny decision can sway the rest of your life. How you can find yourself on a completely different path from the one you had planned out in your mind. Up until the moment I found myself in that classroom signing up for a Chinese course, totally on a whim, I probably thought I would finish my studies in South Africa then move home to Edinburgh and work in theatre. But then something shifted, something clicked. Was I always supposed to end up in China, speaking Chinese? It makes me wonder if it was all predestined, or whether I had a choice? I normally just follow my heart even if it doesn't make sense. I'm not very rational. And yet, I wouldn't want to live my life any other way. Something attracted me to the Chinese language, and that brought me to China, and here I am, sat at a desk in Shenzhen, skyscrapers to my right, animation studios to my left. I don't know how long I will stay in China, but I do know that it will forever be a huge part of my life, both the language and the culture, and of course the friends I've met along the way.
After participating in Chinese Bridge in 2009, Daniel and I were asked to host the 2010 South African Chinese Bridge.
Thank you Ma Laoshi for planting that seed of enthusiasm inside us. Even though we only studied with you for a short time, you helped pave the way for a future than can only be described as nothing short of incredible.
Ma Laoshi and I.
Life is very funny indeed. But I love it all the same.
Love,
Luna